Blog Post by Nicki - Computing Curriculum Specialist at U Can Too
We recently had the pleasure of delivering our Drone Assault Course workshop using the micro:bit at Maidstone Girls Grammar School. The participants were an enthusiastic group of 33 GCSE Computing students who took over the sports hall for a day bursting with creativity, inspiration, coding and excitement!
What is a Drone Assault Course workshop?
You're probably pondering the question: What is a Drone Assault Course workshop? This is an engaging full day workshop aimed at secondary school children (years 7 to 11) where the learners participate in Drone Flying School and learn how to apply physical computing by using a micro:bit to build a range of interactive obstacles. Learners work in teams to build their obstacles and then earn points by successfully flying the drone through each one. This workshop brings together a huge range of STEAM (Science, Technology, Engineering, Art and Maths) skills as learners not only use a pocket-sized computer called a micro:bit to control motors, sensors and LEDs but they also need to overcome engineering challenges to ensure their structures are strong and functional. An artistic flare from our recent learners really brought the obstacles to life, with many choosing a dark, twisted theme!
Getting Started with the micro:bits
Before building their obstacles, learners are given a crash-course in using the micro:bit to control motors, respond to inputs and light an array of LEDs; they are then introduced to their challenge, addressing ways in which the motors can be combined with various mechanisms like a winch and touch sensor.
The learners work in teams, collaboratively choosing their own theme for their drone assault course and assigning roles, the teams were broken down further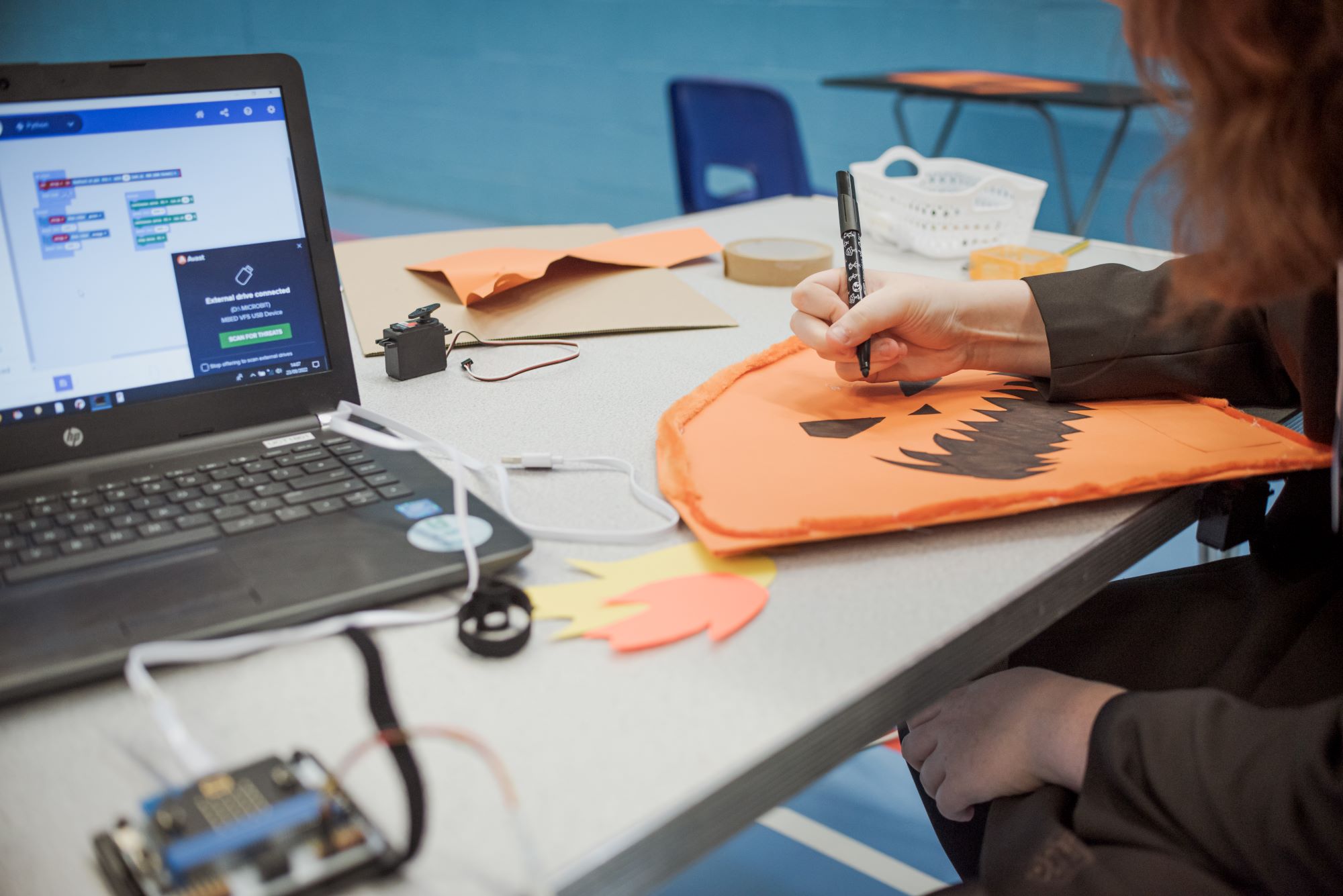 with learners working in pairs on each individual obstacle. From here they planned their mechanism on paper before using the available resources to construct their final product. Once each obstacle was complete the learners had their next engineering challenge of ensuring they were securely attached to the stands in order for the drone to fly through. This proved quite a challenge for some of the obstacles as the teams had to consider various support methods due to the weight of the items, and additional thought was required, particularly for some, which began to spin around when mounted. After securing the obstacles groups were able to tweak the programming for each mechanism to ensure it worked as intended.
The teams worked exceptionally hard throughout the day to ensure they were successful, with nearly all students actively choosing to cut their lunch-breaks short to continue working on the aesthetics of their obstacle courses in readiness for the big event!
As a new employee, this was the first U Can Too workshop I have attended, as I am the company's newest recruit, and what I found so interesting is how artwork and creativity merged so beautifully with both computing and engineering. The day had a whole cross-curricular feel to it, with so much incidental learning happening in addition to the main objectives. As the main focus on this occasion was Computing, the girls were allowed to choose their own themes, but this workshop could also be easily adapted if a school wished to bring other subjects in too, such as a story-telling aspect for English, a point in time for History or a place for Geography.
The end result was fantastic; the energy and anticipation from the year 11 students was clear to see, they had invested so much effort into their creations and were keen to see how they held up to the drones and curious to see how many points their team would accrue as they carefully navigated each obstacle. The event even attracted attention from other members of staff and sixth formers as they were passing by who chose to join in as spectators to cheer the groups on.
Flying the Drones
The girls had each spent a short session in Drone Flight School earlier in the day, where they learned how to safely fly the drones using an iPad app, so they were able to take turns to navigate their assault course in a relay-style race to complete as many as possible. Points were also awarded for creativity and innovation, and additional points were allocated to the more challenging obstacles; I was amazed to see the drone carefully flying through a ghost's mouth, not once but twice, as I had been convinced they had made the mouth too small!
Here's a video showing our highlights from the day:
If you would like to book this workshop in your own school or business, please use our contact page.