U Can Too's dynamic STEM workshops for schools are creative, engaging and fun. We don't just sit around computers, we collaborate, explore, create, build and make!

All our workshops are cross-curricular and involve building, electronics and coding to achieve either physical or visual outcomes. This means learners are meeting some of the key requirements of the National Curriculum for Computing at the same time! Throughout, our STEM specialist will be asking questions to engage each child and encourage them to learn with confidence.
U Can Too coding workshops are available to schools and educational events globally, they are fully adaptable to suit a topic or subject of your choice with cross-curricular learning outcomes.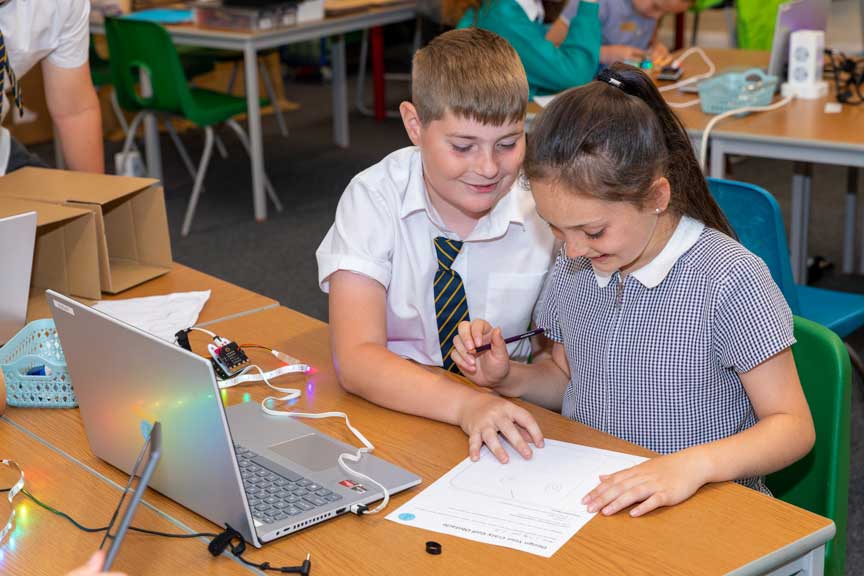 Fun and engaging workshops for primary and secondary schools
We have workshops to suit a variety of topics and interests while also meeting cross curricular learning outcomes. Others simply involve making something truly awesome out of recyclable items from around the home.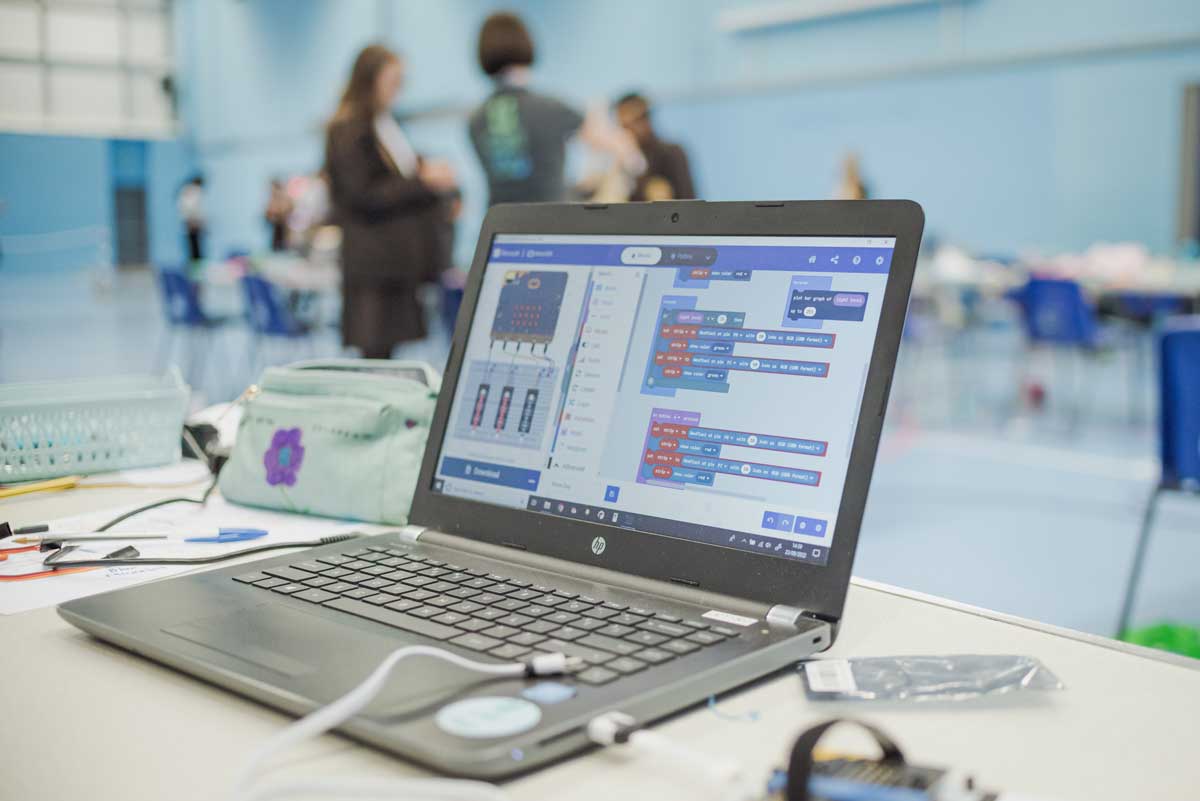 Computing workshops linked to the National Curriculum
What do we provide?
We provide all the tools and materials required for each workshop. This includes laptops, computer hardware, electronics, leads, battery packs and other materials that may be needed for the session.

Occasionally, we may encourage your school to collect recyclable household items, such as cereal boxes, which the children can use in their make. This helps to build interest and excitement around the session, and engages parents too.

The aim of U Can Too workshops is to teach young people how to confidently use computer technology in the real world and develop their skills in logical reasoning, while having fun and being creative.

It is our hope that through U Can Too workshops, bright ideas will be born that could change our world forever!
Our Popular Workshops
Check out our list below for our most popular workshops or contact us for the full list. While these are our standard computing workshops for schools, we welcome a challenge, and would be delighted to create a new workshop to suit you and your learners. Please send your requests directly to our workshop developer using our Contact Page.
Drone Assault Course
In this high-energy day, learners gain an understanding of physical computing by programming LEDs, motors and a range of sensors before participating in Drone Flight School. Learners then work as teams to build and program an assault course for their drone to complete alongside other teams!
Crazy Golf Creations
Learners will work together to problem-solve and build a mini golf course, which involve the use of physical computing to program and build fun interactions to trigger throughout the course.
Robot Petting Zoo
Learners will discover how to build and program their own animals using various mechanisms powered by motors and find out how sensors can be used to trigger outputs. If delivered as a 2-day workshop, additional mechanisms can be included along with a greater opportunity for creativity.
Protect the Treasure
Learners begin this workshop by gaining an understanding of physical computing by programming LEDs, motors and a range of sensors. Each team will then use this knowledge to compete for the best way to 'protect the treasure'; building and programming a solution to present at the end of the workshop.
Circuit Game Maker
Learners will combine their artwork skills with the use of electronics and programming to create their own electronic game similar to Operation.
Activated Art - Kandinsky
Activated Art - Kandinsky
Learners will find out about the artist, Kandinsky, then explore how they can use physical computing to develop new art in the same style.
Bring a Character to Life
Learners will bring to life the Iron Man character from the book by Ted Hughes. They will use electronics components and a micro:bit to program a moving head and light up eyes in response to a sensed input.
ChatterBox BoxBot
Learners will program electronic components to transform a cardboard box into a robotic head with a moving mouth using a lever mechanism.
Storytelling Through Games
Storytelling Through Games
Learners will gain an understanding of programming constructs and use this knowledge to create a game linked to a chosen part of the curriculum. We offer game making in Scratch Jr, Scratch, Kodu Game Lab and MakeCode Arcade.
Our Full Workshop List - by Key Stage

Check out our full list of workshops below by selecting the relevant key stage. We've also included a colour-coded key to help you understand the core computing knowledge developed in each workshop.

Key to Computing Knowledge

Physical Computing using electronic components
Programming with sequencing and repetition

Programming with selection

Programming with variables

| | | | |
| --- | --- | --- | --- |
| | | EYFS learners will explore a variety of computing technologies in a continuous provision style setup, exploring and playing with tools such as Scratch Jr, Bluebots, MakeyMakey and The Very Hungry Code-a-Pillar. This is a pick & mix range of computing activities including a Paint with Sphero and/or stop-motion animation mini-workshop led by an instructor. | |
| | | Learners will explore how a simple electronic circuit and computer programming can be combined to bring a cuddly toy bear to life! | |

Get in touch . . .
If you'd like to get in touch to find out more about our workshops in school use the contact form below: