Festive Fun with Scratch
Our Code and Make Workshops take place in the school holidays delivering creative fun with computing for 7 to 11 year olds.
In this exciting and engaging workshop children will learn to design and program their own Christmas-themed computer game!
Recommended Age
7 - 11 years (school years 2 to 6)
When?
Wednesday 20th December - 12:45 to 3:45
How much does it cost?
Our half-day workshops cost £26
Who is looking after my child?
Our workshops are led by Su Adams (company founder) and Nicki Cooper (qualified teacher) who both hold up to date enhanced DBS certification (CRB checks). The price includes full insurance, use of equipment and materials.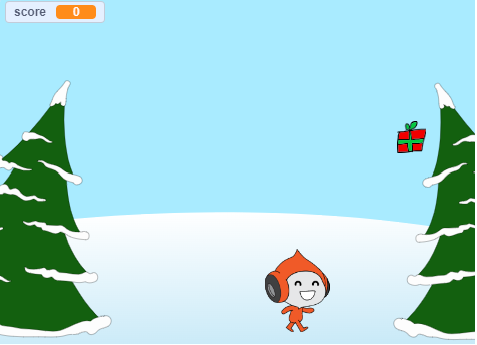 Workshop Description
Uh Oh! Santa is dropping all his presents! In this workshop children will learn how to program their own character in Scratch to help save Christmas!
After the workshop there will be an opportunity for sharing their games with parents/carers in a showcase!
Frequently Asked Questions
What time is drop-off and collection?
Children can be dropped off anytime from 5 minutes before the session to the session start time.
Your child can be collected anytime from 3:30 to 3:45; during the showcase.
If you decide to book both the morning and afternoon sessions for the same day, and you would like your child to spend their lunch with the U Can Too team, please indicate this when booking.
Will I be able to see what my child created during the session?
There will be a short showcase in the last 15 minutes of the session. Please arrive at 3:30 pm to see the results conjured by your child's imagination!
Can my child attend both sessions?
Yes, simply book for the full day option.
If your child is staying with us all day, please let us know if they will be staying with us between the two workshops and, if applicable, make sure they bring their lunch with them.
Does my child need to bring a laptop or tablet PC?
We have enough equipment for each child to work independently, so your child does not need to bring any tech to their session. This means no software installations for you and no need to concern yourself about the safety of expensive equipment.
Will my child work with others to build a creation?
Children are encouraged to work independently in this workshop; however, if your child is attending with a friend they may be keen to work collaboratively.
Whether working independently or as part of a group, your child will have plenty of opportunities to develop ideas and share excitement about their creation.
Can my child take their make home?
In this workshop children will be using the popular programming environment of Scratch to build their games and will be able to download and play their games at home after the workshop.
What should my child bring with them?
Your child should bring water and a snack to keep them going. If they are attending both the morning and afternoon workshops and staying during the lunch break, your child should bring their lunch. Please make sure these items are labelled.
Aside from the above, we recommend that your child brings as little as possible to avoid possible loss or breakages.